Thrice Fiction™ No. 18
Posted December 31, 2016

Welcome to the eighteenth issue of Thrice Fiction magazine! Published three times a year, Thrice Fiction is filled with stories, art, and a few surprises from a variety of talented contributors. But the best part? It's absolutely FREE! That's right, you can download a free PDF or eBook at no charge, or purchase a beautiful full-color printed copy from MagCloud! Just follow the links below!
Stories include...
• The Tale of the Two Sisters by Lynn Mundell
• I Keep My Mattress on the Floor by Vincent Chabany-Douarre
• Cape Fear, Open road to the ferry Hurricane season by Lis Anna-Langston
• Revisiting by Carol Smallwood
• The Octopuses Swim, Barely Disguising their Obliviousness while we Rustle Newspapers Carelessly and Demand Another Coffee, Barely Disguising Ours by Samuel Rafael Barber
• Bambi by Kiara A. Breedlove
• Mother-Of-Pearl by Melinda Giordano
• Old Water by Sharon Frame Gay
• Looking for Bill by Diane Valentine
• On Bus 15 by Helen Sinoradzki
• Lydia Wakes by Tara Roeder
• The Vase by Martin Keaveney
• ~ddogdogdogDÕGdogdogdogg~ by John M. Bennett
• Above Average by Ashley Marie Dantzler
• Hole by Eric G. Wilson
• The Square by Elisa R.V. García
• Salt and Pepper by Cate Camp
• A Thousand Paces by Kawika Guillermo
• You See a Skein of Ducks by Mason Hamberlin
• The Mourning After by Alec Bryan
• Jokes by Merran Jones
• Three Grandfathers by Kathryn Kulpa
• Washed Me Clean by Jay Merill
• Vapor by Frank Diamond
• Icarus by Charles Rafferty
• If Not by Thomas Sanfilip
• Fiesta by Sonya Gray Redi

Note: Thrice Fiction may contain some adult language and situations. Parental guidance is suggested for readers under 17 years of age.

How to get a copy of Thrice Fiction™...

FREE PDF! CLICK HERE to download a PDF file, suitable for reading on most devices... such as Macs, Windows PCs, Linux PC's, iPads, etc. (click here to learn more). Have a wide-screen monitor or prefer the full magazine experience? CLICK HERE to download a Double-Page Spread Version PDF file

$11.80 Magazine! CLICK HERE to purchase a beautiful perfect-bound printed copy from MagCloud... NOTE: Shipping charges and applicable taxes are not included (visit their site for more info).

The best way to view THRICE FICTION is via PDF or Print, but we also have e-Books available...
Got an iPad, iPhone, or iPod Touch? Click here for easy 3-step ePub instructions!
FREE eBook! CLICK HERE to download an ePub file which will work in most eBook readers for mobile devices... such as iPad, iPhone, Android smartphones, Nook eReader, etc. (click here to learn more).

FREE Kindle! CLICK HERE to download a MOBI archive, formatted for Amazon's Kindle... unzip and install via USB to your reader (click here to learn more).
Our Dolphin
Posted December 3, 2016
THRICE PUBLISHING™ NFP is proud to announce the publication of the first book in our library of independent titles, Our Dolphin by Thrice Fiction contributor Joel Allegretti. Our Editor at Large, RW Spryszak, chatted with Joel as we were working on his book. Click here to read the interview. Our Dolphin is available now from Amazon and the CreateSpace eStore.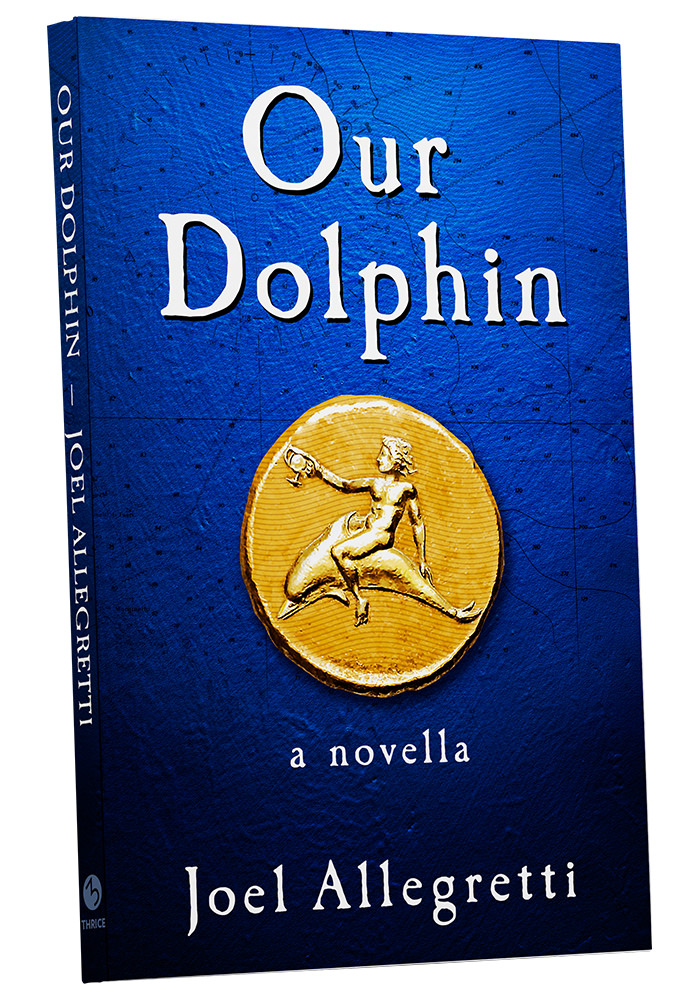 ANNOUNCEMENT
Updated March 5, 2017
Thrice Publishing™ (the NFP company that publishes Thrice Fiction™ magazine) will be publishing up to two stand-alone titles a year. The query process will be open from May 1 to July 31 every year. Click here for details.
Thanks for supporting Thrice Fiction! Tell your friends!
Want to contribute to Thrice? Have a look at our submission guidelines!
Thrice Fiction™ ©2011-2017 by Thrice Publishing™
All content is ©2011-2017 by their respective creators and reproduced with permission.
No part of this site may be reproduced without permission from the copyright holders.